Here we showcase our favourite One Piece figures of characters Nami and Luffy. If you are a fan of the series, these amazingly detailed character figures from the Straw Hat Pirates are a One Piece collector's dream. We are showcasing anime figures from the three major companies, MegaHouse, Banpresto, and Bandai. The Luffy and Nami figures are typically manufactured to 1/8 scale and include interchangeable accessories.
Monkey D Luffy Gear 4 Boundman | Portrait Of Pirates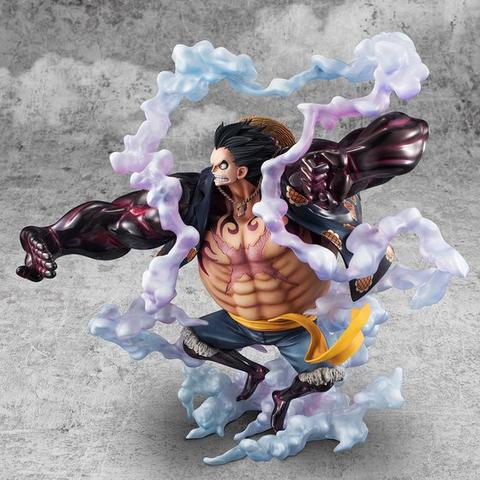 Gear Four figure of Luffy is first seen in Chapter 784. When utilizing Gear Forth, Luffy makes use of Busoshoku Haki by coating his arms, legs and much of his torso in it to the point that they turn black from hardening — detailing shading around the inner and outer edges of his eyes and the Haki coating across his body which resembles flames, giving it the appearance of tattoos. Physically much taller in this form, some 4 metres, Luffy is continuously emitting steam and has an inflated rubber-like composition and compressed muscle structure.
Released 30 Sep 2017 | MegaHouse

Monkey D Luffy | Timeskip | Portrait Of Pirates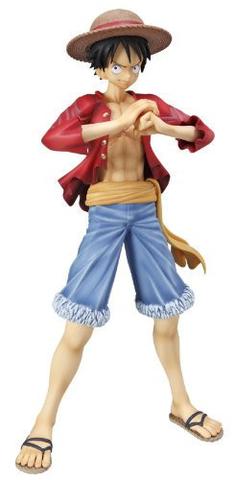 MegaHouse has produced a figure with an excellent representation of Monkey D Luffy during the time skip. A straw hat Luffy figure made from PVC and standing 8.58 inches tall with great attention to detail.
Released 31 Jul 2012 | MegaHouse

Nami | Figuarts ZERO | Milky Ball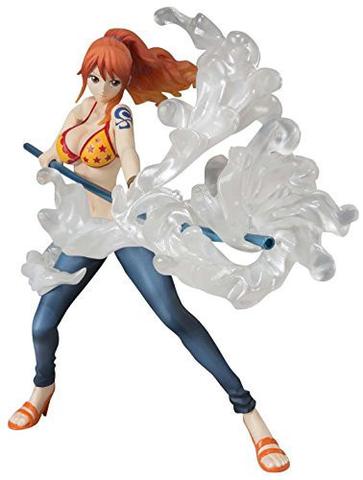 Bandai released this Figuarts Zero Battle Version figure of a character who's already had many Battle versions and we love it. The Milky Ball Nami Battle Version figure's face, pose and paint detail all look superior to that original Bandai Nami statue. Nami is an amazing character who–like most of the Straw Hats have some dynamic action poses and this action figure represents that perfectly.
Released 28 Mar 2015 | Bandai

Nami Figure | Timeskip | Portrait Of Pirates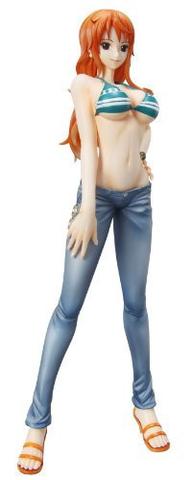 Nami, the Straw Hats navigator is beautifully crafted by MegaHouse in this Saling Again version. This particular version of Nami is after the series time-jump, where Nami has grown up a bit and filled out in places and a lot of ways has now become fan service and a lot more sexualized than before the time-jump. This version sees an excellent representation of Nami in both Manga and Anime forms translating the animation into a lifelike 3D model.
Released 11 Jun 2013 | MegaHouse

Monkey D Luffy | Battle Version | Portrait Of Pirates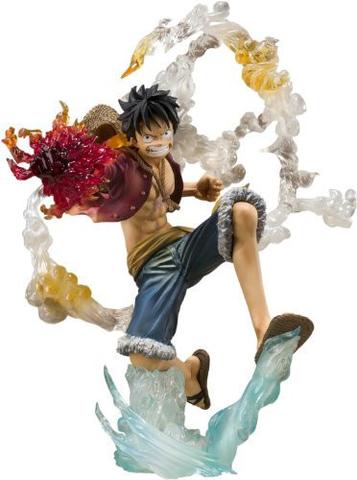 A standout action figure from Bandai depicting Monkey D Luffy in full battle mode. This Luffy figure has it all, a dramatic pose with special powers including a fire punch and smoke in full effect. Mounted on a stand it is well made and will look awesome in any collection.
Released 12 Jun 2014 | Bandai
Do you have any of these Luffy or Nami figures as part of your collection?