Today's we look at the very special new Erina Nakiri figure from the popular series Food Wars: Shokugeki no Souma! She's posed undressing as she did in the Polar Star dormitory bathroom. Her necktie is undone and hanging from her arm, while her shirt is mostly unbuttoned. Her honey blonde hair has been recreated nicely as her chunky bangs frame her face. Check out her slightly embarrassed expression along with her furrowed brow, and her mouth is pursed.
You can also see the detailing of Erina's lacy pink bra from her unbuttoned shirt. The different patterns and floral motifs are all perfectly recreated. This really is a stunning anime figure and would look amazing displayed in anyone's collection.
Erina's outfit also has some removable parts! You can remove her necktie and her skirt, to reveal a matching pair of pink panties! Removing her dress helps you appreciate all of Erina's curves. The line of her arched back and her lifted leg helps create such a sexy touch!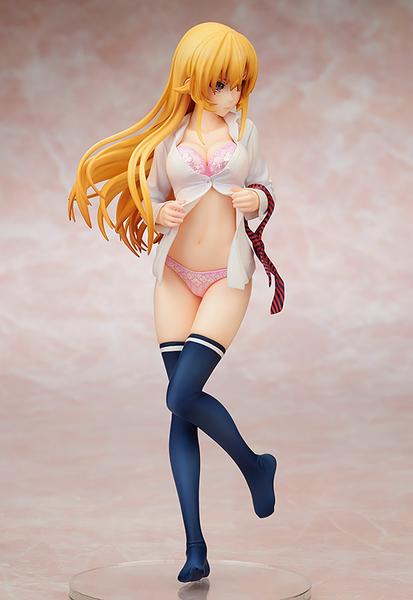 From behind, you can get a good sense of the level of detail put in this Erina Nakiri figure. Check out the shading of her over-knee, blue socks which have an almost luminous look from the highlighting! You can also see how her toes stretch slightly upwards from her pose!
She's a beautiful addition to any Shokugeki no Souma fan's collection, we pre-ordered our figure from Solaris Japan.
Erina Nakiri, famous for her God's Tongue from the series Food Wars: Shokugeki no Souma, is caught undressing in this fantastic new figure release! She has such a cute look on her face as she changes her clothes and exposes some skin. Her hair is faithfully recreated, and her skirt and tie are removable, making for several display options. Add her to your collection today!