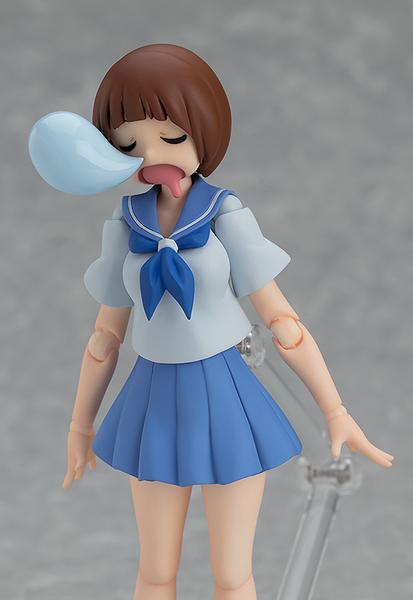 Today we look at the special Mako Mankanshoku from Kill la Kill! The high-energy companion of Ryuko has been transformed into an adorable figma! She's dressed in her no-star seifuku and includes several accessories and expressions. Now, this anime figure is not released until the 31st of December but you can pre-order here at Solaris Japan. She consists of a standard, smiling expression, but this isn't enough to capture Mako's bubbly and goofy personality! Her second expression is her yelling expression, perfect for recreating so many of Mako's inspiring and sometimes humorous pep talks and soliloquies! Is it just me or can you hear the hallelujah chorus in the background too?
Mako also comes with a snoozing expression – you can pose her sitting down in class or having a serious thinking session with Ryuko using this expression! Her final expression is quite comical and is ideal for tackling Ryuko in the hallways! She's caught calling out, her mouth wide open, with her eyes firmly shut.
"Ryuko! Where are you wandering off to by yourself?"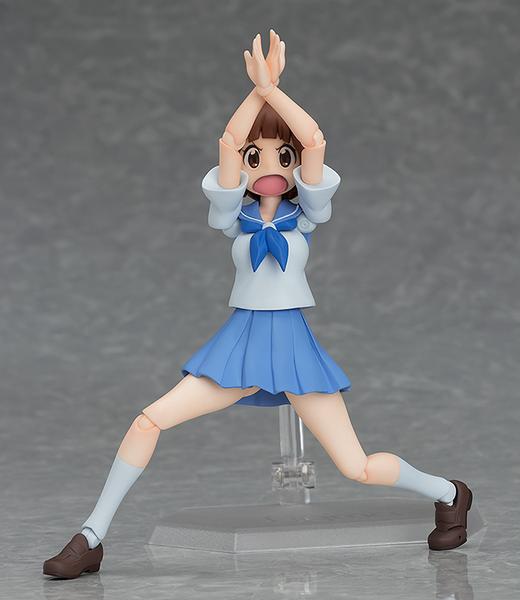 Mako also includes accessories, so your posing possibilities are even more fabulous! She comes with a paper mirror and flag (pole not included – Max Factory recommends using a skewer, so you can recreate the scene when she starts cheering for herself. Make sure to pose her with Ryuko to complete the scene!

"Go for it Mako! Stand strong Mako Mankanshoku! Hooray! Hooray!" Cheering Herself On. The last additional part is Guts! The Mankanshoku family's pug is outfitted in his standard hoodie, with his tongue hanging out of his mouth. His neck is also articulated, so you can pose the little pug with his head tilted. How cute!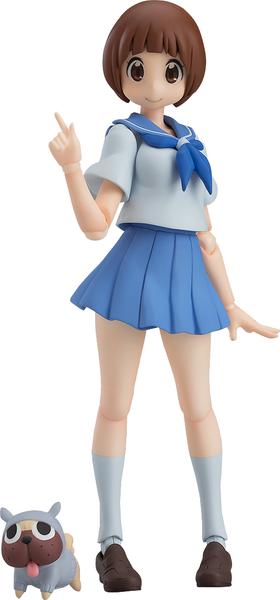 Mako's energetic personality is perfectly captured with this new figma release! Mako Mankanshoku, from the popular anime series, Kill la Kill, is transformed into a figma! This highly articulated figure brings Mako to life under the careful supervision of Sushio, Kill la Kill's original character designer and animation director. She includes four different expressions: a standard, happy expression, an excited expression, a sleeping expression, and a shouting expression. She comes with several bonus parts, including her family dog Guts! Add Mako to your collection today!"